Kanheri Geet Govinda
Kanheri Geet-Govinda was executed in Khandesh in 1765 A.D. It is at present preserved in Samarth Wagdevata Mandir, Dhule-Maharashtra. It is complete and contains 290 miniature paintings.
They are executed in an original style of Khandesh and therefore keeping in view the focal character of Geet-Govinda, Radha, I call this style, "Kanheri". With the discovery of this Geet-Govinda a new style has been discovered in the field of Indian Miniature painting.
The paintings are superb and represent regional Khandeshi influence. They are also influence with Rajasthani and Nagpur styles.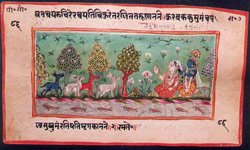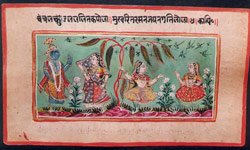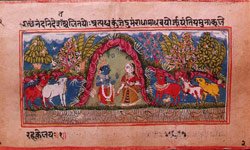 Interested? Want to know more about Geet Govinda?