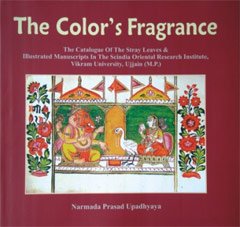 The Colour's Fragrance
The Catalogue of the stray leaves & Illustrated manuscripts in the Scindia Oriental Institute, Vikram University, Ujjain (MP).
Ujjain, a great historical and religious city is also well known for its eternal cultural heritage. The history of Ujjain goes back to 6th Century B.C. The references of this great city are found in Puranas and other religious and cultural texts. The travellers also wrote about this great city in their memoirs. This city came under the rule of Scindias in 17th century and their domination remained till independence. The descendants of Scindias were responsible for the foundation of this institute.
Book Details
Book size: 9.25"x9" Hard bound
Pages: 219
Publisher: Shir Beni Madhav Prakashan Graha, Harda (MP)
Year: 2011
ISBN 978-81-922356-0-8
How to Buy The Colour's Fragrance with author's autograph?
Please send the "Demand Draft" or "at Par Cheque", amount $35 or Rs. 1550 in favor of "Narmada Prasad Upadhyaya" at address below. We will ship the book the next day of the payment.
Narmada Prasad Upadhyaya
"Shyam Asheesh", 85, Indira Gandhi Nagar, near R.T.O Office,
Indore, 452001, Madhya Pradesh, India
for more information please contact us